Chapter 1: The Teaching Profession
Unlearning Box
"Those who can, do. Those who can't, teach."
"It's easy to become a teacher."
"Teaching is an 8:30-3:00 job. You have it so easy!"
You may have heard people in your own life share quotes and comments such as these. These quotes are hurtful and untrue. Teaching is a profession. Teachers are capable, intelligent, and held to extremely high professional standards. Quotes and comments like these demonstrate gross misunderstandings of what it means to be a teacher in the United States.
In this chapter, we will begin to peer behind the scenes of what it means to be a teacher in the United States. We'll walk through a day in the life of a teacher, break down what is involved to become a teacher, and close with characteristics of effective teachers.
A Day in the Life
To get started, let's drop into three different classrooms to get a feel for a day in the life of an elementary teacher, a secondary (high school) teacher, and a special education teacher.
Elementary Perspective
The school doors open at 7 AM, and you greet children as they enter the cafeteria for breakfast. Once morning duty is over, you hurry to your classroom to await the 25 students that will come filing in momentarily. You make sure materials and directions for tasks are ready and calming music is playing. As students enter, you gather signed forms and respond to notes from families, help students with their morning activities, take attendance, and hold a morning meeting. The rest of the day, you are simultaneously teaching the content areas–English, math, science and social studies–and social skills as students navigate groupwork and friendships. Various other educators drop in throughout the day: the reading specialist to work with a group of readers who need extra support, the occupational therapist to help a student with some motor skills still developing, the speech pathologist to help students with articulation and language development, the instructional coach and sometimes the principal to give you feedback on your instruction.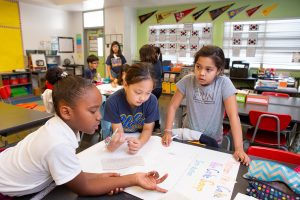 Pauses throughout the day from the busy pace of classroom life include related arts, where students go to learn about music, visual art, library, P.E., and more while you meet with your grade level for team planning; and lunch and recess, which involve scarfing down your lunch while getting your students through the lunch line, figuring out who changed their lunch choice or left their lunch at home, opening mustard packets, reminding students to eat while they talk with friends, and hopefully scuttling off to check your school mailbox and take a bathroom break. After a post-recess water break, you return to classroom instruction, with a few interruptions for students leaving early for doctor's appointments, a student needing to go to the nurse's office, another teacher popping in to borrow a book, or sometimes even a whole-school assembly for a class play or anti-bullying program.
When it is time to pack up for the day at 2:30, you make sure all students know how they are getting home that day, have their materials packed and ready to go, and then you bid them farewell at the door with a hug, high-five, or handshake as they head to their dismissal area. Once your room is empty, you go to monitor a dismissal area to make sure everyone is safe. After school, you might have a faculty meeting, a debrief with an instructional coach based on today's observation, or time to prepare tomorrow's instructional materials. You marvel at how quickly yet another day has passed in the life of an elementary school teacher.
Secondary Perspective
The bell rings at 8:15 AM, but you've already been at school for more than an hour–making copies, checking emails, and writing the plans and goals for the day on the board. As an English teacher, you've decided to work on writing fluency during this year, so as the students enter the classroom, they take out their journals and begin responding to the prompt on the board. Every day the class meets, the students will write for five minutes and then briefly discuss their responses with each other and as a whole group. You write alongside them to model what it looks like, and often share your own writing–at the beginning of the year, most of the students struggled to write for five straight minutes, but now nearly all of them have gotten the hang of it. The rest of the lesson involves a minilesson on figurative language, small group discussions about students' literature circle books, and a whole group review game to prepare for the unit test on Wednesday.
The school adopted a block schedule last year, so your classes are 75 minutes long. You teach three of four blocks each day; today is an A day, so first block is 9th grade honors and the other two are 10th grade general English. Tomorrow, you will teach two blocks of 9th grade general and one block of 10th grade College Preparatory English. You hate these labels and what they do to the students in the room, and, as department chair, you have been working with your principal to remove such rigid tracking.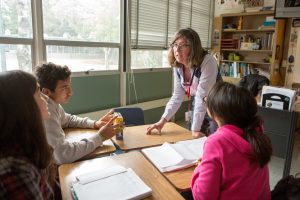 "Bear Block" falls between 1st and 2nd block, and ten students stream into the room to retake tests, make up missed homework, or just hang out and read. You glance at the learning management system and see that there are 45 essays waiting for you, but there won't be time to look more closely at them until later tonight. During lunch, some of your journalism club students are in the room, partially working on stories and layouts, but mostly sharing the latest news about their friends and acquaintances.
For the Professional Learning Community (PLC) meeting during fourth block, you will meet with the other 10th grade English teachers to look at the results of a common assessment. At some schools in the district, the grade-level teachers all teach the same lessons, but luckily at this school you have more freedom in how you teach the material. There is a new teacher on the team who is struggling with classroom management, so the first 15 minutes of the meeting is spent discussing some strategies that have worked in other teachers' rooms.
The end of the day comes at 3:15 PM, but it will be another hour or two before you head home–there are sub plans to finish for Thursday because you will be attending a district-wide training for working with English Language Learners, and you are hoping to send at least ten texts and emails to parents. The initial fear of parent contact faded quickly, and now it's one of your strengths–you reach out early and often, connecting with families around student successes first. Later, if students begin struggling, contact is much more seamless. It's been a long, exhausting day, but interacting with the students has made it all worth it.
Special Education Perspective
You arrive early in the morning, an hour or so before teachers officially start the school day. You greet the office manager, principal, and custodian on the way to your classroom. Aside from these three, the building will be mostly empty for another half hour. You've found that this quiet morning time provides the best opportunity to catch up on Individualized Education Plan (IEP) paperwork, reflect on student data from the prior day, and make adjustments to instruction for the coming day. As the official start time for the school day draws close, you make a quick dash to the copy machine, fingers crossed that it isn't broken and that there isn't a line of teachers anxiously waiting their turn. It's your lucky day. Your last photocopies shoot out of the machine just as the overhead announcement calls teachers to report to their morning duty stations. You quickly drop the copies off in your classroom, pick up your data binder, and dash out the door to the bus loop.
The bus loop is a flurry of activity. You greet students with high-fives, occasional hugs, and countless reminders to "use walking feet." Amid all of these informal greetings, you are slipping in some IEP services by completing morning check-ins with several students who have behavioral or social-emotional goals on their IEPs. From an outsider's view, these check-ins don't look that different from your interactions with any other student. However, intermixed with those high-fives and hugs you quietly assess needs, remind students of the goals they are working on, offer supports where needed, and quickly make notes in your data binder. On this particular day, a third grader with autism reports that he is feeling like "a category 3 hurricane." You know he needs some quiet time before joining his homeroom class, so you walk him to the computer lab where he has an open invitation to help the instructional technology specialist get the computer lab set up for the day.
The halls begin to clear as the instructional day begins. You spend the next six hours in constant motion, serving 18 students across four grade levels. You transition between co-teaching in general education classes and pulling small groups of students to your own classroom for intensive intervention in literacy, math, or social skills. When co-teaching, your job is to supplement the general education teacher's deep knowledge of grade-level content with specialized instructional strategies that make content meaningful and accessible for students with disabilities and other learning differences. When providing intensive intervention, you implement research-based programs that target specific skills identified in your students' IEPs. Data collection is on-going and individualized for each student, so your trusty data binder is by your side in all settings.
Normally, you would end the school day completing check-outs with the same students you saw in the morning. Today, you assign that responsibility to a teaching assistant so you can participate in a special education eligibility meeting. It is the initial eligibility meeting for this student and her family. A team of educators work with the parents to determine if the first grader has a disability and needs special education. Her parents feel overwhelmed by the process and fearful when the team concludes that their daughter has an intellectual disability. This is a moment when your job and your passion meet. You assure the parents that the future is bright for their daughter, that the educational label does not change who she is or who she will be, and that you will highlight her strengths and address her needs as you plan her education with them as equal partners. The decisions that you will make with this family are new to them, but for you they are a familiar and important part of your day as an elementary special education teacher.
Becoming a Teacher
The scenarios above describe some typical teaching days, but not all days are the same in teaching. In fact, each one will be different in some way. Deciding to become a teacher is an exciting commitment to shaping the future, and it is both demanding and rewarding. We'll take a look at the profile of teachers today in the United States, and then discuss various routes toward earning the credentials necessary to become a classroom teacher.
Profile of Teachers Today
The National Center for Educational Statistics (NCES) collects data on various aspects of education, one of which is the demographics of teachers and students. In the 2017-2018 school year, there were 3.5 million full- or part-time public school teachers (NCES, 2020a). (K-12 means the range of grades public schools serve, starting with kindergarten in elementary school and culminating with 12th grade in high school.) Of those teachers, 76% were female[1], 79% were White, 90% held a standard teaching license (more on that below), and 58% had earned a graduate degree (at the master's level or beyond). A majority of teachers were in the middle of their careers, with 40% having ten to twenty years of experience in the classroom. The average salary of a full-time public school teacher was $57,900, with the average first-year teacher earning $44,200. (Note that salaries vary based on years of experience, highest degree earned, and location.)
Stop & Investigate
Check out the demographics of teachers in your state or school district. How do they compare? Find the salary scale for teachers in your local school district. How does it compare?
Let's revisit some of those demographics on racial diversity. Figure 1.1 depicts specific racial categories of public school teachers in the 2017-2018 school year, compared with the 1999-2000 school year.
Figure 1.1: Racial Demographics of U.S. Public School Teachers, 1999-2000 and 2017-2018
Note: Data for teachers who identified as Asian, Pacific Islander, and two or more races in 1999-2000 was unavailable. The 2017-2018 data for teachers who identified as Pacific Islander rounded down to 0.
The trends are clear: in the United States, we lack a racially diverse teaching force, and that trend has not changed much in the past 20 years. While the 2017-2018 school year included more Hispanic, Asian, and multi-racial teachers, teachers are still overwhelmingly White. In the same school year, however, students who attended public schools were only 44% White (NCES, 2020b). That means that generally, there are more White teachers and more students of color (Geiger, 2018). This trend is concerning, given that research shows that having teachers of color benefits all students, not just students of color (Wells, Fox, & Cordova-Cobo, 2016).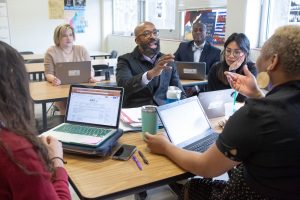 There are many reasons why teachers in the United States are not racially diverse. While the U.S. Supreme Court's 1954 decision in (further explained in Chapters 3 and 5) demanded all schools integrate to address some of the inequalities between separate schools for White and Black students, it did have other consequences that directly impacted the diversity of teachers in the United States. This case caused 38,000 Black teachers (about one-third of the Black teachers in the country) to lose their jobs in the years following the case (Milner & Howard, 2004; Thompson, 2019). Even though this historical antecedent did limit access to teaching jobs for Black people, racial discrimination in the hiring process continues to compound this issue. D'Amico et al. (2017) found that despite equally-qualified candidates applying for jobs in one large school district, White teacher candidates still received a disproportionate number of job offers: of the 70% White applicants, 77% received job offers, while of the 13% Black candidates, 6% received job offers (D'Amico, Pawlewicz, Earley, & McGeehan, 2017; Klein, 2017). Beyond the hiring process, retention of hired teachers is lower for teachers of color than for White teachers. For example, between the 2011-2012 and 2012-2013 school years, only 15% of White teachers left their jobs, compared to 22% of Black teachers and 21% of Hispanic teachers (U.S. Department of Education, 2016).
Critical Lens: Naming Races
You may have noticed in this section that races are capitalized (like White and Black). Capitalizing these names recognizes the people more than the color. In fact, the Associated Press recently changed its writing style guide[2] to capitalize Black and Indigenous when referring to racial categories.
Pathways Toward Teacher Certification
High-quality, well-prepared educators are the foundation of our educational system. Well-prepared teachers are more effective in the classroom and also tend to have higher rates of retention, meaning they choose to stay in the teaching profession (Darling-Hammond, 2010). There are several different ways that you can become a teacher, depending on where you are in your life and career. These pathways toward teacher certification fall into two general categories: traditional or alternative preparation. involves an undergraduate or graduate degree program affiliated with an , while can take many forms, including provisional certification or residency programs like Teach for America. No matter how you obtain your , you will have to renew the license periodically.
Traditional Preparation: Educator Preparation Program (EPP)
The most traditional way to earn your teaching certificate is through an Educator Preparation Program (EPP). An EPP could offer a few different programs that would culminate in your teaching certificate. Two popular options are an undergraduate degree program or a graduate degree program.
Undergraduate Degree Program
In this pathway toward teacher certification, participants enter a 4-year degree program knowing that they want to become a teacher upon graduation. Exact majors vary: sometimes you might major in education, or in a specific form of education (like elementary education). If you want to teach elementary school, you are expected to be more of a generalist: you will likely teach all content areas to your students. Therefore, you will take education classes in all of these areas. If you want to teach middle or high school or become a teacher (arts, language, etc.), you will major in your future area of specialization, such as history if you want to teach social studies, or music if you want to be a music teacher. Regardless of the exact structure of the specific program, participants take classes that help them learn about (the art and science of teaching), along with specific of instruction (such as how to teach the structures of different disciplines like literacy, math, science, or social studies).
Completing coursework is just one part of becoming a teacher in a traditional undergraduate degree program. There are also tests that future teachers must pass to prove they are prepared to teach. Some of these tests occur early in the degree as entrance requirements to an education program to assess basic literacy and math skills; some of these tests occur at the end of the degree as a culmination of all courses. These tests, run by ETS, are called tests. Their website[3] has information about testing requirements in different states.
Critical Lens: Bias in Standardized Assessments
While standardized assessments have been associated with measuring intelligence and learning for many years, some schools are moving away from relying solely on standardized tests as a measure of aptitude. You or someone you know might not be a great test taker, and you may have experienced first-hand (or second-hand through an acquaintance) how standardized tests aren't always a reliable measure of what you know. Beyond test anxiety, standardized tests also tend to be culturally biased. That means that some cultural norms are assumed to be shared by all test takers, but this isn't necessarily the case. A passage in a reading assessment, for example, might assume that a test-taker can build on background knowledge of certain experiences, like going camping, that they haven't had, or use vocabulary words that are more common in middle-class White households. Another standardized test of intelligence, the IQ test[4], was used early on by eugenicists to argue that White test-takers scored higher because they were the smarter race, using questionable statistical analyses and overlooking that the tests were written to benefit White test-takers. However, these standardized tests were often used to choose "highly qualified" candidates for jobs such as military leaders, therefore limiting access to certain professions based on race and socioeconomic status.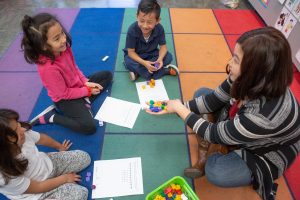 One of the most important parts of preparing to become a teacher is getting practice working in actual classrooms with actual students. In a traditional undergraduate degree program, you will engage in two different types of field placements. The first types of field placements are sometimes called , which are part-time placements that are often tied to specific courses (like methods classes, where you learn about how to teach specific content areas like language arts, math, science, or social studies). You attend practicum a few hours a week in between your other coursework. In these practicum placements, you get to try out what you are learning in class with actual classrooms, teachers, and students. Sometimes you are observing to learn more; other times you are actively leading instruction in one-on-one, small group, or whole group settings. Your various practicum placements typically will be in different schools and different grade levels to give you experience working with many different types of students and teachers. The second type of field placement is called or an . This full-time placement occurs at the very end of your degree program. You spend all day, every day at your placement, just like the classroom teacher does. As the semester progresses, you will take on more and more responsibility for planning and teaching. By the middle of the semester, you will usually be responsible for all of the planning and teaching for all content areas for several weeks. After those few weeks, you begin passing the instructional responsibilities back to the classroom teacher. Both practicum and student teaching will require you to work closely with the classroom teacher, who may be called your . Neither type of field placement is an official job, so you should not expect to be paid for these experiences.
After you have completed all of your undergraduate coursework, your field placement hours, and your state's required testing, you will earn your teaching certificate and be ready to apply for your first teaching job.
Graduate Degree Program
The first graduate, or post-baccalaureate, degree programs were developed in the 1970s as Masters of Arts in Teaching (MAT) programs (Darling-Hammond, 2010). A post-baccalaureate degree program is designed for people who want to become teachers, but who have already completed their undergraduate coursework in a field other than education. Therefore, a post-baccalaureate degree program allows people to learn how to become teachers while earning a master's degree. In a post-baccalaureate degree program, courses are often offered in the evenings to cater to the needs of adult students who may be working or have family commitments during the day. Even though its structure is a little different, a post-baccalaureate degree program also has the field experiences explained above (practicum and internship).
After you have completed all of your post-baccalaureate coursework, your field placement hours, and your state's required testing, you will earn your teaching certificate and be ready to apply for your first teaching job. The master's degree you will earn in a post-baccalaureate program can result in higher pay for teachers in some states. (Even if you earn your teaching credential in an undergraduate program, you can still earn a master's degree in education and get a pay increase in many states.)
Accreditation of EPPs
Research has shown that teachers who earn their teaching certificate through an educator preparation program (EPP) feel significantly more prepared to meet their students' needs than those that pursue other routes toward licensure (i.e., Darling-Hammond, Chung, & Frelow, 2002). One reason for this finding lies in the high standards that EPPs must meet. EPPs must be accredited by either state or national agencies. means that the programs have met specific standards of high-quality teacher preparation programs.
The first national credentialing agency was the National Council for Accreditation of Teacher Education (NCATE), which was founded in 1954. By 2016, NCATE was replaced by (pronounced "cape"), which stands for the Council for the Accreditation of Educator Preparation. In their mission, they state: "CAEP advances equity and excellence in educator preparation through evidence-based accreditation that assures quality and supports continuous improvement to strengthen P-12 student learning" (CAEP, 2020b, "Mission"). To receive CAEP accreditation, EPPs have to demonstrate evidence of their success in five areas, or standards[5]: (1) content and pedagogical knowledge; (2) clinical partnerships and practice; (3) candidate quality, recruitment, and selectivity; (4) program impact; and (5) provider quality, continuous improvement, and capacity. When you enroll in an EPP with CAEP or state-level accreditation, you know you are in a high-quality program that has provided evidence of meeting rigorous standards to prepare teachers.
Alternative Preparation
Sometimes, you decide to become a teacher after you have already earned an undergraduate degree in another field. Perhaps you've even worked in another field for several years, and you realize that you would like to become a teacher instead. While each state has different policies and programs for preparing teachers beyond undergraduate coursework, a few common approaches include provisional certification and residency programs like Teach for America.
Provisional Certification
Some schools face shortages of teachers in certain content areas or in more urban settings, which mean they need teachers as soon as possible–even if those teachers aren't officially certified just yet. A allows an individual to become a teacher temporarily, while they work with their employer to arrange to meet the requirements of earning a teaching license (such as taking the required Praxis tests). These licenses might be valid for a period of time ranging from one to three years and typically are not renewable, meaning that if you do not meet the licensure requirements before your certificate expires, you will not be able to continue teaching. Sometimes provisional certification is also called emergency certification, since it is designed to meet an immediate need.
Residency Programs
are another alternative pathway to receive a teaching credential. Typical participants in a residency model already have a bachelor's degree prior to beginning a residency program. During the residency program, future teachers work simultaneously on a master's degree in education while being placed in a school full-time. Typically residents do not serve as the teacher of record in the classroom, meaning they are not solely responsible for all instruction. Residency programs are particularly popular in high-needs areas where there is high teacher turnover and recruitment and retainment of teachers is challenging, such as urban centers. Some critiques of residency programs center on the short-term, intense nature of the experience: while a traditional undergraduate pathway toward a teaching credential takes around four years, a residency may last only one year, with the field experience occurring concurrently with coursework (NYU Steinhardt, 2018).
Teach for America (TFA) is one well-known residency program. TFA recruits from undergraduate completers, mostly from programs other than education, to complete intensive training in the summer immediately following their graduation and prior to assuming their teaching position. Teach for America places candidates in higher-needs areas, while incentivizing the program by offering candidates a free master's degree in education while they complete two years of teaching in the program. However, fast-tracked, alternative certification programs like Teach for America do tend to have lower rates of retention (Hegarty, 2001). Retention refers to how long teachers stay in the field of education. Higher retention rates lead to higher-quality teachers, since you will keep growing in your competency as a teacher the longer you stay in the profession. Therefore, some alternative certification programs like Teach for America receive critiques for their short-term placement of teachers in schools for a couple of years instead of long-term teaching careers.
Maintaining A Teaching License
Once you have earned an initial teaching license, you will be able to teach for a period of time before you have to renew it. Usually, you will have to renew your license every three or five years; each state sets their own regulations, and different licenses sometimes have different timespans. Renewing your teaching license is important because teaching and learning are constantly changing and evolving, and you will best serve your students by being up-to-date on the latest information. You can earn renewal credits in a variety of ways, including taking graduate courses, attending conferences, attending professional development opportunities offered in your district and beyond, and more. The year your license will expire, you will have to submit a request to renew your license to your state Department of Education, including evidence of how you met your continuing education requirements. You cannot be a teacher with an expired license, so it is important that you remember to keep your teaching license current.
Each state has their own policies for becoming a teacher, so what happens if you earn a teaching license in one state and then have to move to another state? Many state Departments of Education have with other states, meaning that your license could be transferred to a new state without having to start over completely. You might have to meet a few additional requirements unique to your new state, such as Praxis tests, but you don't have to go back to school to get another degree in education. Learn more about reciprocity from the Education Commission of the States[6], including a state-by-state comparison of reciprocity conditions[7].
Stop & Investigate
Look up the licensure and reciprocity policies for your state. Here is Virginia's licensure website[8]. What do you notice about your state's policies?
Characteristics of Effective Teachers
First of all, what does it mean to be an effective teacher? Effectiveness can be hard to define. Some ways to measure effectiveness include student achievement, such as test scores; performance ratings from supervisors, like administration members observing a lesson; or informal feedback in the form of comments from students or other stakeholders. Defining effectiveness is further complicated by the reality that there are many variables that a teacher cannot control that still impact these various measures (Stronge, 2018).
Pause & Ponder
Who was a teacher who positively influenced your life? What did they do that left this impact? Was it how they approached instruction, interacted with you as a person inside or outside of school, or facilitated an extracurricular club? Now, think about a teacher who negatively affected you. What did they do that caused you to have a less than desirable experience?
As you yourself have experienced as a learner, there are certain characteristics that effective teachers share. Even though all teachers have distinct personalities and instructional approaches that they bring to the classroom–since teachers, like students, are still individual people–here are some practices that effective teachers have in common.
Over the span of 15 years, Walker (2008) asked college students what made effective teachers in their own experiences and found twelve recurring characteristics.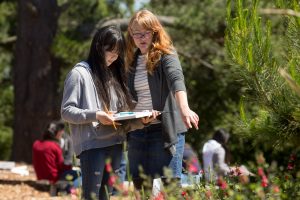 Prepared. Effective teachers were ready to teach every day and used time efficiently.
Positive. Effective teachers were optimistic about their jobs and their students.
Hold high expectations. Effective teachers believe everyone can succeed and challenge students to do their best.
Creative. Effective teachers come up with new, innovative ideas to teach content.
Fair. Effective teachers establish clear requirements for assignments, give everyone what they need to succeed, and recognize that learners are unique.
Display a personal touch. Effective teachers connect with students by sharing stories about themselves and participating in their students' worlds, like going to a performance or sporting event.
Cultivate a sense of belonging. Effective teachers make students feel welcomed and safe in the classroom.
Compassionate. Effective teachers are sensitive and empathetic to students' situations.
Have a sense of humor. Effective teachers bring humor into the classroom, but never at a student's expense (i.e., laugh with, not at, students).
Respect students. Effective teachers maintain privacy and don't embarrass students in front of the class.
Forgiving. Effective teachers don't give up on students and start each day without holding grudges about how previous days have gone.
Admit mistakes. Effective teachers apologize when they make mistakes and make adjustments accordingly.
In addition to these personal qualities, there are specific ways to structure learning that are more effective than others. Creemers and Kryiakides (2006) called this the "dynamic model of educational effectiveness." The dynamic model focuses more on teaching and learning than other factors that are beyond the teacher's control in the classroom. Eight factors that tend to have an impact on student learning are explained in Table 1.1 (adapted from Muijs et al., 2014).
Table 1.1: Eight Factors that Impact Student Learning (Muijs et al., 2014)
Factor
Examples/Elements
Orientation

Providing specific objectives for lessons/units
Asking students to name why they are doing a certain activity during a learning experience

Structuring

Beginning with explanation of learning goals/objectives
Signaling transitions between different parts of the lesson
Reviewing main learning points throughout the lesson

Questioning

Asking varied questions with varied difficulty levels (i.e., different levels of , discussed in Chapter 6)
Giving students time to respond (wait time)
Being responsive to students' answers

Teaching modeling

Teacher/peers modeling problem-solving strategies
Inviting students to develop their own strategies
Encouraging the use of modeling (showing how something is done)

Application

Practicing/applying learning in a variety of contexts (whole group, small group, individual activities)
Use application tasks to connect to subsequent instruction

The classroom as a learning environment

Establishing expectations for productive, on-task behavior
Establishing rules and structure for respectful participation in the learning environment

Management of time

Organizing the classroom environment
Maximizing time on task/student engagement

Assessment

Collecting data to assess students' mastery of knowledge and skills
Analyzing data to identify strengths and needs
Sharing this data with students and families
Using this data to evaluate/reflect on own instructional practices
As you can see, while we all bring our own personalities to our own classrooms and instruction, there are some practices that have consistently impacted student learning. We will continue discussing those specific practices throughout the rest of this book, and you will continue honing those skills as you continue on your pathway toward becoming a teacher.
InTASC Standards
Common characteristics of effective teachers can be found in ten . A nonpartisan, nationwide group of public officials with leadership positions in U.S. K-12 education called the Council of Chief State School Officers (CCSSO) created a subgroup called the Interstate Teacher Assessment and Support Consortium (InTASC). InTASC created a list of ten standards that cover model core teaching practices that high-quality K-12 teachers should be able to demonstrate as effective teachers. These standards were originally released in 1992 to guide early-career teachers, but the group realized that these characteristics were actually applicable to all teachers. Therefore, in 2011, InTASC revised the standards and expanded them to all teachers. Table 1.2 breaks down the 10 standards into the four overarching categories.
Table 1.2: InTASC Standards by Categories
The Learner and Learning
This category recognizes that before we can teach, we must understand our learners.
Standard #1: Learner Development

"The teacher understands how learners grow and develop, recognizing that patterns of learning and development vary individually within and across the cognitive, linguistic, social, emotional, and physical areas, and designs and implements developmentally appropriate and challenging learning experiences." (p. 8)

Standard #2: Learning Differences

"The teacher uses understanding of individual differences and diverse cultures and communities to ensure inclusive learning environments that enable each learner to meet high standards." (p. 8)

Standard #3: Learning Environment

"The teacher works with others to create environments that support individual and collaborative learning, and that encourage positive social interaction, active engagement in learning, and self motivation." (p. 8)
Content Knowledge
This category focuses on the depth of knowledge teachers need to possess in their corresponding content areas in order to support students in their accurate learning of content.
Standard #4: Content Knowledge

"The teacher understands the central concepts, tools of inquiry, and structures of the discipline(s) he or she teaches and creates learning experiences that make the discipline accessible and meaningful for learners to assure mastery of the content." (p. 8)

Standard #5: Application of Content

"The teacher understands how to connect concepts and use differing perspectives to engage learners in critical thinking, creativity, and collaborative problem solving related to authentic local and global issues." (p. 8)
Instructional Practice
After mastering the content knowledge itself, effective teachers need to understand how to deliver instruction by weaving together assessment, planning, and instructional strategies.
Standard #6: Assessment

"The teacher understands and uses multiple methods of assessment to engage learners in their own growth, to monitor learner progress, and to guide the teacher's and learner's decision making." (p. 9)

Standard #7: Planning for Instruction

"The teacher plans instruction that supports every student in meeting rigorous learning goals by drawing upon knowledge of content areas, curriculum, cross-disciplinary skills, and pedagogy, as well as knowledge of learners and the community context." (p. 9)

Standard #8: Instructional Strategies

"The teacher understands and uses a variety of instructional strategies to encourage learners to develop deep understanding of content areas and their connections, and to build skills to apply knowledge in meaningful ways." (p. 9)
Professional Responsibilities
In this category, a teacher's role as a life-long learner is the focus. Learning can occur through professional development (like trainings and classes), reflection, taking on leadership roles, and collaborating with various stakeholders.
Standard #9: Professional Learning and Ethical Practice

"The teacher engages in ongoing professional learning and uses evidence to continually evaluate his/her practice, particularly the effects of his/her choices and actions on others (learners, families, other professionals, and the community), and adapts practice to meet the needs of each learner." (p. 9)

Standard #10: Leadership and Collaboration

"The teacher seeks appropriate leadership roles and opportunities to take responsibility for student learning, to collaborate with learners, families, colleagues, other school professionals, and community members to ensure learner growth, and to advance the profession." (p. 9)
Professionalism & Dispositions
The last category of InTASC standards focuses on professionalism. Teachers are held to very high standards as professionals because of their influence on shaping students' learning, outlook, and futures. Teachers are expected to be role models, both within and beyond the classroom. Therefore, there are certain interpersonal skills–sometimes called –that teachers are expected to demonstrate as professionals.
Pause & Ponder
In your own experience as a student, what are some behaviors or actions you have observed from teachers that made you respect them or lose respect for them? How will this impact how you practice professionalism in your future classroom?
A challenge related to dispositions is that research has not yet established an exact set of non-academic qualities that teachers need to demonstrate in order to be successful (CAEP, 2020a). Therefore, expectations of which dispositions should be observed will vary. Overall, here are a few examples of dispositions that you should possess as a future teacher.
Communication. You will be expected to demonstrate mastery of oral and written communication with a variety of stakeholders, including students, co-workers, administration, and families. Communication should be respectful and positive, and teachers are often expected to demonstrate mastery of conventions of standardized English.
Professional image. Related to communication, you are expected to portray a professional image in words and actions. You will be expected to dress professionally. You will be expected to avoid documentation of overly reckless behavior, such as photos on social media of drinking to excess at a party. As a teacher, you are a representative of your school district, and you are expected to maintain that professionalism within and beyond the classroom.
Organization. While there is no one "correct" way to be organized, you will be expected to manage your time, complete tasks by deadlines, and show up to work on time. You will also need to be able to organize student records (including assessments) and return assignments to students in a timely manner.
Collaboration. You will be expected to collaborate with a variety of stakeholders, including students, co-workers, administration, and families. Many times, you will be interacting with people whose backgrounds differ from your own, and it is very important that you respect the contributions of others, even if you would not approach a situation in exactly the same way.
Reflection. You will be expected to reflect on your instructional practice and adjust your next steps accordingly. Rarely does an instructional activity go perfectly, and that's OK! Teachers must be able to reflect on what went well and what to change going forward.
Critical Lens: Linguicism
You're heard of lots of -isms: racism, sexism, classism. What about linguicism? Fain (2008) cites Skutnabb-Kangas (1988) to define as "unequal treatment of languages based upon power structures that privilege certain languages as having legitimacy" (p. 205). People often assume that "Standard English" is right and everything else is not (Wheeler & Swords, 2006). Standardized English received this position as a "prestige dialect" (Wheeler & Swords, 2006) about 500 years ago, when the self-declared "superior" Europeans came to the Americas and began interacting with the so-called "inferior" native people. Linguistic discrimination, therefore, is a result of the "racist project of colonialism" (Otto, 2004, p. 3). Linguicism can be applied to languages, such as Spanish, or dialects, such as African American Language or Southern English. As Wheeler and Swords (2006) remind us, "while language varieties clearly differ, difference does not signal deficit" (p. 14). (Note: We use the term "Standarized English" instead of "Standard English" to highlight the artificial construction of one language as the "standard" and all others as "substandard" [Wheeler & Swords, 2006].)
Many of these dispositions and expressions of professionalism are culturally bound. For example, tattoos may need to be covered in some school districts, while others do not mind if age-appropriate tattoos are visible. It is important to know the expectations within your local context so that you can act accordingly. In Chapter 5, we will discuss more about your legal and ethical protections and expectations as a teacher.
Stop & Investigate
Explore the purple "Critical Disposition" boxes in the InTASC standards document[9] (starting on p. 12). What trends do you see? What will this mean for your future classroom?
Teacher Beliefs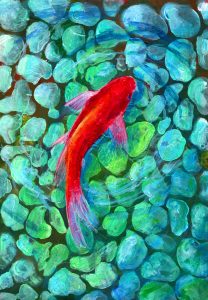 In the teaching profession, it is also important to be aware of our beliefs. Awareness of our own beliefs can be particularly challenging because sometimes we are socialized into certain beliefs and do not even realize we hold them until we meet someone who holds different beliefs. Furthermore, in education, "Whiteness is the invisible norm" (Derman-Sparks & Ramsey, 2006, p. 35). As we established earlier in this chapter, most teachers in the United States identify as White. That means that the majority of teachers share certain aspects of mainstream cultural backgrounds and bring them into their schools and classrooms, often teaching next door to other teachers who share those same mainstream cultural backgrounds. That is how one cultural background can become the invisible norm.
We teach who we are. We bring our identities into our classrooms on a daily basis, just like our students do. Who we are involves many different facets of our identity, called . Legal scholar Kimberlé Crenshaw (1989) invented the term "intersectionality," and it has since been applied in varied contexts, including education. The idea behind intersectionality is that many different aspects of our identity–including characteristics such as race, economic class, gender, and more–overlap and "intersect" with one another. Our identities–and our students' identities–are greater than any one isolated characteristic. In this short video, Kimberlé Crenshaw explains intersectionality and its impact in educational settings.
Pause & Ponder
Where do some of your identities lie in this diagram of intersectionality? Which groups within each characteristic tend to have the most power? (For example, which racial groups tend to be the most empowered or disempowered?) What other characteristics would you add to this diagram?
As human beings, we have a natural desire to belong in order to survive. This drive to survive results in our grouping people–both consciously and unconsciously–based on their similarities or differences to us. Unfortunately, those same survival skills mean that we may think less of people who are different from us. We may think they aren't as smart, or aren't as good at what they do, or don't do things the "right" way (the way we do them). Judging or evaluating another culture based on your own culture is called . If we aren't careful, we can let ethnocentrism interfere with our professionalism as teachers. We might think a student is less capable of success in our classrooms or beyond based on our own cultural beliefs about certain characteristics. Sometimes we assume people from certain racial, socioeconomic, ability, and other demographic groups are less capable, simply because of our own expectations or cultures. We might consciously or unconsciously believe certain –sweeping, oversimplified generalizations about a group–and those stereotypes will filter into our interactions with our students, our expectations of our students, and our teaching in general. As Gorski (2013) reminds us, "no amount of resources or pedagogical strategies will help us to provide the best opportunity for low-income students to reach their full potential as learners if we do not attend first to the stereotypes, biases, and assumptions we have about them and their families" (p. 69).
Therefore, an important aspect of being an effective teacher is knowing yourself. Freire (1973) discussed the importance of critical consciousness, the ability to see beyond one's own limited realm of experiences. Members of mainstream groups must be especially aware of their identities and how these identities impact their teaching (Gay, 2010; Harro, 2000).
Conclusion
In this chapter, we surveyed the teaching profession in the context of the United States. You learned that teachers today are mostly White females with 10-20 years of experience in the classroom. Pathways toward preparing high-quality teachers can be traditional, such as earning an undergraduate or graduate degree in education, or alternative, such as provisional certification or residency programs like Teach for America. No matter how you earn your initial teaching license, you will need to renew it periodically. Finally, the teaching profession depends on characteristics of effective teachers. InTASC standards remind us of ten common characteristics of effective teachers across four domains, and dispositions relate to our general professional demeanor as teachers. Additionally, we must be aware of our beliefs and how they consciously and unconsciously contribute to our instruction. In the rest of this book, we will continue to explore the complexities of the teaching profession.
---
Abbreviation for kindergarten through 12th grade, the traditional span of public schools in the United States.
Landmark Supreme Court case in 1954 that declared separate educational facilities were not equal, ending segregation in schools.
One way to earn a teaching license through completing coursework at an Educator Preparation Program (EPP).
Programs offered through colleges or universities to earn teaching credentials.
Pathway toward earning teaching certification that does not involve undergraduate coursework and might involve residency programs or provisional certification.
Earned after meeting state-established requirements (such as courses and testing) in order to become a teacher. Requires periodic renewal.
Term referring to teachers in areas like music, visual arts, drama, etc.
The art and science of teaching.
How to teach the structures of different disciplines like literacy, math, science, or social studies.
Series of teacher certification tests offered by ETS.
Part-time field placements that are often tied to specific courses to give preservice teachers experience in classrooms.
Full-time practicum experience, usually situated at the end of an educator preparation program. May also be called internship.
Full-time practicum experience, usually situated at the end of an educator preparation program. May also be called student teaching.
Teacher of record in a practicum placement. Mentors preservice teachers by modeling effective instruction and sharing classroom responsibilities.
Process of formal review of an Educator Preparation Program by an outside agency, such as CAEP.
Council for the Accreditation of Educator Preparation.
Teaching license that is temporary, usually with certain stipulations or provisions attached. Sometimes called an emergency teaching license.
Alternative pathway toward teacher certification in which future teachers work simultaneously on a master's degree in education while being placed in a school full-time.
Agreements among different states to honor teaching licenses earned in other states, sometimes with additional requirements added (like testing).
Framework designed by Benjamin Bloom and colleagues in 1956, and later revised in 2001. Divides educational goals/cognitive processes into six categories of increasing complexity: remember, understand, apply, analyze, evaluate, and create.
10 standards from the Interstate Teacher Assessment and Support Consortium that cover model core teaching practices for K-12 educators.
Interpersonal skills expected of teachers as professionals.
Unequal treatment of languages based upon power structures that privilege certain languages as having legitimacy.
Term coined by Crenshaw (1989) meaning many different aspects of identity--including race, economic class, gender, and more--overlap and intersect with one another.
Judging or evaluating another culture based on your own culture.
Sweeping, oversimplified generalizations about a group.